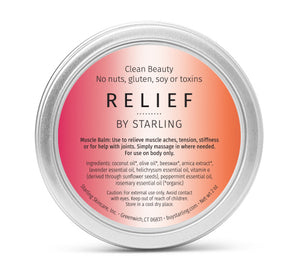 Sore No More
Our Relief Muscle Balm is designed to help reduce muscle tension and tightness. Ap. . .
Show More
Ingredients: coconut oil*, olive oil*, beeswax*, arnica montana extract*, lavender essential oil, helichrysum essential oil, vitamin e*, peppermint essential oil, rosemary essential oil, jojoba oil* (*organic).
Excellent for pain
Doing an update as I had only used it for my scar pain when I did initial review. I have used this for muscle pain and arthritic pain. And it worked for all of it! By far the best product I have used for any kind of pain. My absolute go-to from now on for pain.
It works!
Got this specifically for scar pain, and it worked. Smells lovely. I will also be using this for some chronic joint pain, guessing it will work just as well for that too.
This works
I have tried a variety of pain relief creams for my sore shoulder, and none of them really work well plus they smell bad• This cream however soothed my aching shoulder and I really like the way it smells.
Amazing product
The Relief Balm has a wonderful fragrance, great texture, and is very effective!! Will definitely purchase again !