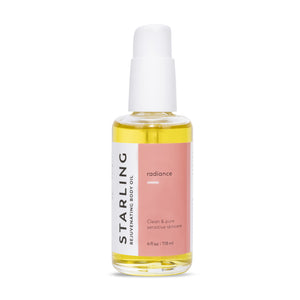 Rejuvenated skin that glows? Yes please.
This is the ultimate anti-aging body oil.
Radiance is l. . .
Show More
Ingredients: apricot seed oil*, sunflower seed oil*, caprylic triglyceride, olive oil*, borage seed oil*, evening primrose seed oil*, camellia seed oil*, hemp seed oil*, jojoba seed oil*, grape seed oil, arnica extract*, calendula extract*, broccoli seed oil, proprietary essential oil blend (scent).

How to use: After a shower or bath, pat on slightly damp skin (wait for full absorption prior to getting dressed). Breathe in and feel the aromatherapeutic stress release. Radiance Body Oil also can be used as an uplifting massage oil. Pour a cap full into running water for a beautifully scented, luxurious, moisturizing bath.
LOVE
I adore this nourishing product--cannot say enough about it. Using it is like applying youth to my skin.
Cristina - Thank you so much for the AMAZING review! We are so happy you are loving Radiance.
Luxury in a bottle
Absolutely love this oil. The scent is very light and delicate. lightweight oil, skin soaks it right up and feels absolutely amazing. Makes my skin feel silky smooth. If I could rate it higher than 5 stars, I totally would. I'm not usually for recommending products, however that has changed with Starling Skincare. Wonderful products and excellent customer care. 🌸
OMG we are so happy you loved Radiance Body Oil! Thank you for the amazing review!
Godness in the bottle
Im in total love with mine Starling body oil. I love the smell its so fresh and revitalizing for me and my senses. I am using it daily for whole my body and will get always silky, luxurius, radiant and glowing feeling. It should not be missed at any woman line of products especially aftershower/afterbath. Its absorbing very fast into your delicate skin. Its great daily routine with great results for your skin! I will have to buy again soon because I am almost at the bottom of my bottle. Love Love Love!!! Pls give a try and you will see yourself the amazing results on your skin and body!!! Can not wait to try more products from Starling! U should do the same! Giving this product high score rate 5 stars from rate of 5 star. Would love to say infinity stars rate cause this product totally deserve the spot lights!!!
Love this
This body oil is so luxurious. It's the perfect consistency; absorbs well and leaves skin very moisturized in dry winter months.
So nice
I have been hearing a lot about body oils and wasn't sure if it was for me, but I received the radiance body oil as a gift, so I used it and was really surprised at how non oily it was. My skin soaked it up. My skin was left smooth and soft, like really smooth, I didn't expect it. And the scent is really nice, not perfumy. I don't typically write reviews but thought I should really share my experience. Really nice product.