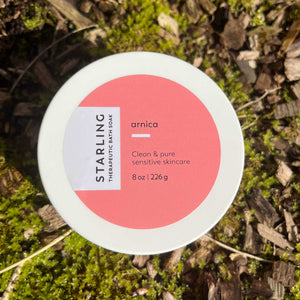 Soak Your Way To Relaxation
Experience full-body relaxation with a luxurious Bath Soak, po. . .
Show More
Ingredients: clinical grade epsom salt, himalayan salt, celtic sea salt, sodium bicarbonate, olive oil, jojoba oil, arnica extract, lemon essential oil, lime essential oil, eucalyptus essential oil, fir essential oil, mint essential oil, rosemary essential oil.
How to use: Add two generous handfuls to warm running bathwater. Soak for at least 20 minutes to gain all the sleep and relaxation benefits. Dress warmly post bath and allow yourself to continue to sweat and detoxify. Drink lots of water to continue the detoxification process.
Best Tub Soak There Is
This soak is my go-to whenever I get body aches. Always leaves me feeling better.
This stuff works!
I am a runner and my leg muscles get tight and they often ache. When the ache gets unbearable, I take a warm bath with these bath salts. Whatever is in there, I am guessing the arnica, soothes my muscles. The aches literally go away. I have taken baths before without these salts, but I never felt this level of comfort. Bravo Starling, I am a big fan of these miracle salts!
Amazing!!
This bath soak was amazing! I thought it would be like any other bath salts / bombs but was truly relaxing and you can feel it working as you lie there. After you soak and get out of the tub you can still feel the cooling effect / relaxing! I slept well for sure! Would recommend 100%!
We are absolutely thrilled you loved it. Thank you for the glowing review. We hope you were glowing too after your knockout night of sleep! :zzz::star:️:first_quarter_moon:
Love, Starling