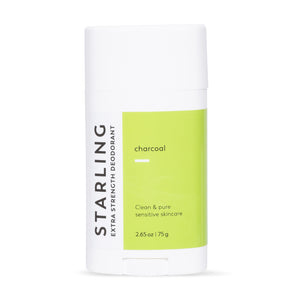 Charcoal Extra-Strength For Extra-Confidence
This new formula still contains all the ingr. . .
Show More
Ingredients: tapioca starch, coconut oil*, beeswax*, mango butter, magnesium hydroxide,  jojoba oil, vitamin e*, all-natural fragrance derived from essential oils (*organic)
*PLEASE NOTE THAT THE HIGH COSTS IN INGREDIENTS FOR THIS PRODUCT HAVE CAUSED US TO INCREASE THE RETAIL. 
Directions for use:
Apply on clean and dry area. Wait until dry before putting clothes on. Reapply as needed. As with any natural deodorant, you may experience a brief transition period.
As you continue to use Starling deodorants, you will need to reapply less while experiencing less odor.While Starling is formulated to be a non-irritating, non-chemical deodorant, minor irritations can still occur due to a sensitivity. If you experience skin irritations, please discontinue use.