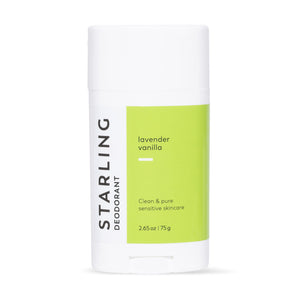 A deo you can't refuse
Made without aluminum or synthetic fragrances, this deodorant gets. . .
Show More
Ingredients: tapioca starch, coconut oil*, beeswax*, mango butter, baking soda, magnesium, jojoba oil, vitamin e*, natural fragrance derived from essential oils (*organic).
Please note that due to the naturally occurring oils we use for scenting, it is normal to see some discoloration or specks in your deodorant.
How to use: Apply on clean and dry area. Wait until underarms are dry before putting on clothes. Reapply as needed.
As with any natural deodorant, you may experience a brief transition period. As you continue to use Starling deodorants, you will need fewer reapplications.