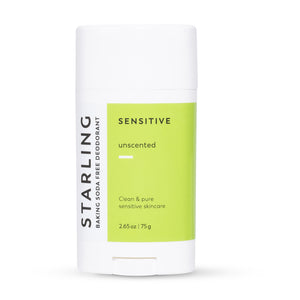 We're Sensitive To Those Who Are Sensitive
Introducing a new and improved sensi. . .
Show More
Ingredients: tapioca starch, coconut oil*, beeswax*, mango butter, magnesium hydroxide, zinc ricinoleate, vitamin e*, calendula* (*organic)
Directions for use:
Apply on clean and dry area. Wait until dry before putting clothes on. Reapply as needed. As with any natural deodorant, you may experience a brief transition period.
Best deodorant for sensitive skin
I have extremely sensitive skin with many allergies. I have tried so many different kinds of natural deodorants and they all made me itch and clogged my pores...or worse. Starlings deodorant for sensitive skin is the first and only brand that doesn't break me out, itch, clog your pores, or leave nasty white marks! It goes on smoothly and is not greasy or powdery. It does what it says it will do and lasts for about 48 hours, which means I get to use less and save! I believe it works as an antiperspirant as well. My husband, who also has very sensitive skin, has even joined the Starling club and loves his deodorant now too! Thank you Starling for making a wonderful product that we can wear proudly and with confidence!
We are so happy this was good for you! The sensitive deodorant is really the best we have found and perfect for anyone who is super sensitive.
Sensitive deodorant
I've been a customer for a while and was surprised when I received the 3 pack of deodorant in the mail!! Thank you so much starling for sending!! I am in love with your products. My daughter has been using force field and birthday cake and we love it. She had struggled with bo from a young age and then we found starling and have never looked back!!
It really works
I love this deo. It goes on smooth. And keeps me fresh all day.
Delightful Deodorant!
I recently purchased the Starling Sensitive Deodorant, and it works very well! It goes on smoothly and softly, feels great and offers excellent protection! I like this version because it's fragrance free, so I can still wear my favorite perfume without it competing. Best of all, it's not filled with awful chemicals, dyes or aluminum!