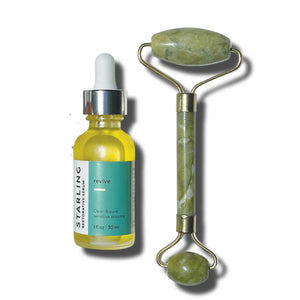 Get a facial massage without leaving the house.
Yes, everyone's busy. But that doesn't mean your facial skin sho. . .
Show More
Ingredients:
Revive Anti-Aging Serum: grape seed oil, *borage seed oil, *evening primrose seed oil, *rose hip seed oil, *chia seed oil, *pumpkin seed oil, red raspberry seed oil, *camilla seed oil, *hemp seed oil, *hibiscus oil, *pomegranate seed oil, *blueberry seed oil, *calendula extract, *olive oil, broccoli seed oil, *carrot seed oil  (*organic).
Here's how it works:
Step 1: After face is cleansed, apply 3-4 drops of Revive Anti-Aging Serum in the palms of your hands and rub together to warm the oil. Breathe in, relax and then gently pat into your skin. This lightweight serum sinks in almost immediately and even primes your skin for makeup.

Step 2: Now it's time for the jade roller. Use it to start rolling at the center of the face, then stroke skin under the eyes and cheekbones, using outward movements. Move toward the hairline in short, upward, gentle strokes, then head to the jaw area and work in short strokes (starting at the chin), moving outward toward the ears. Finally, roll over eyebrows and forehead in an outward and upward motion. You can also use the smaller side of the roller around the eyes.