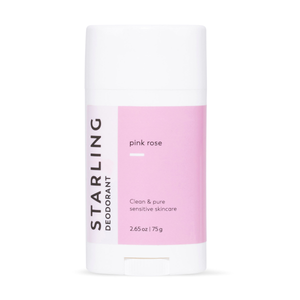 We use only non-irritating, allergen-free, and toxin-free ingredients to create our products. We d. . .
Show More
Ingredients: tapioca starch, coconut oil*, baking soda, beeswax*, mango butter, magnesium hydroxide, vitamin e*, natural scent derived from essential oils (*organic)
Directions for use:
Apply on clean and dry area. Wait until dry before putting clothes on. Reapply as needed. As with any natural deodorant, you may experience a brief transition period.
As you continue to use Starling deodorants, you will need to reapply less while experiencing less odor. While Starling is formulated to be a non-irritating, non-chemical deodorant, minor irritations can still occur due to a sensitivity. If you experience skin irritations, please discontinue use.